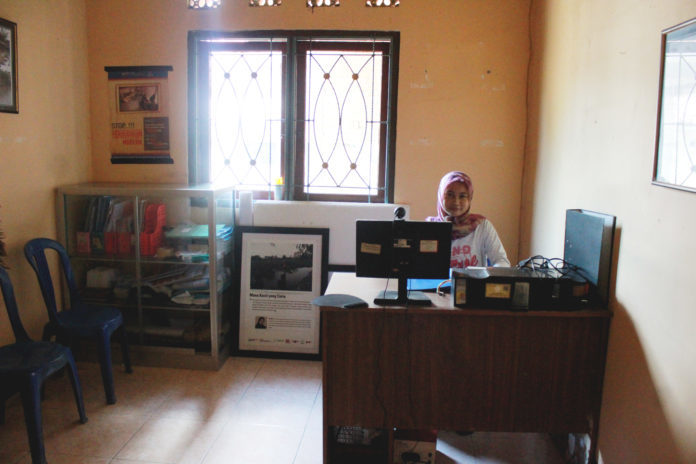 Darek Village is one of the villages in Central Lombok that took the initiative to build the Migrant Workers Care Village (DESBUMI). This village has had a Village Regulation on the Protection of Indonesian Overseas Workers from Darek Village since 2015. There are three divisions in the DESBUMI management in Darek Village, which are the information division, the advocacy division, and the documentation division. The information division is in charge of providing advisory services and sharing safe migration information. The advocacy division is in charge of handling cases. Meanwhile, the documentation division is in charge of managing documents or permits related to residents who want to work abroad. They also collect regular data on resident mobility abroad.
According to Nurul, a staff of DESBUMI of the advocacy division, last year, they received case complaints via Facebook. A victim admitted that she was not paid a salary and was not allowed to go home. The case was successfully handled and the victim was returned to Darek Village. There was another case of confinement of an Indonesian migrant worker in Riyadh, Saudi Arabia. During her detention, she was forced to work in four to five houses a day. She worked from seven in the morning to two in the morning. Thanks to the responsiveness of the case settlement by the cadre of DESBUMI Darek, this case was successfully handled. Facebook is considered as an effective medium for them to convey information and activities, including for the case advocacy division. In 2018, DESBUMI Darek is in the stage of handling cases related to work accidents and insurance claims. They are currently exchanging letters with BP3TKI and are waiting for the next process.
However, Nurul admitted that they still faced obstacles in processing the case, "Residents are reluctant to report their cases because (this) is considered a disgrace. But after DESBUMI arrived, the people started to be aware to complain cases they face," she admitted. The mechanisms for handling cases carried out by DESBUMI cadres include contacting the families of the victims, recording chronologies and collecting documents needed for advocacy, and coordinating with local partners. Social reintegration is also carried out after handling cases. To encourage the decentralization of case handling and the independence of DESBUMI, previously they had been equipped with paralegal training in 2017.
As in other DESBUMI in Central Lombok, in Darek Village, there is a migrant workers care group that conducts loan activity. This activity facilitates residents who want to develop their business. In addition, the Village Government prepares annual budgets for DESBUMI to conduct socialization, capacity building, and publicity activities. In 2016, they received training in making taro and banana chips to develop independent businesses. Then in the following year, they held paralegal training to equip DESBUMI administrators and group members who are ex-migrant workers and their families to have advocacy skills. In 2018, they plan to disseminate the Village Regulation and print several publication materials. The Village Head shows his commitment to the protection of migrant workers by chairing the DESBUMI management in Darek Village himself.
This post is also available in:
Indonesia (Indonesian)